Cuba: Economic Reforms and the Perception of Time
By Julio Carranza
Cuban professor
Ph.D. in Economics
We must move forward planning more quickly and consistently with a view to the near and longer terms, as well as to the short term, each of which requires its own coherent decision-making. Time is of the essence.
June 08, 2021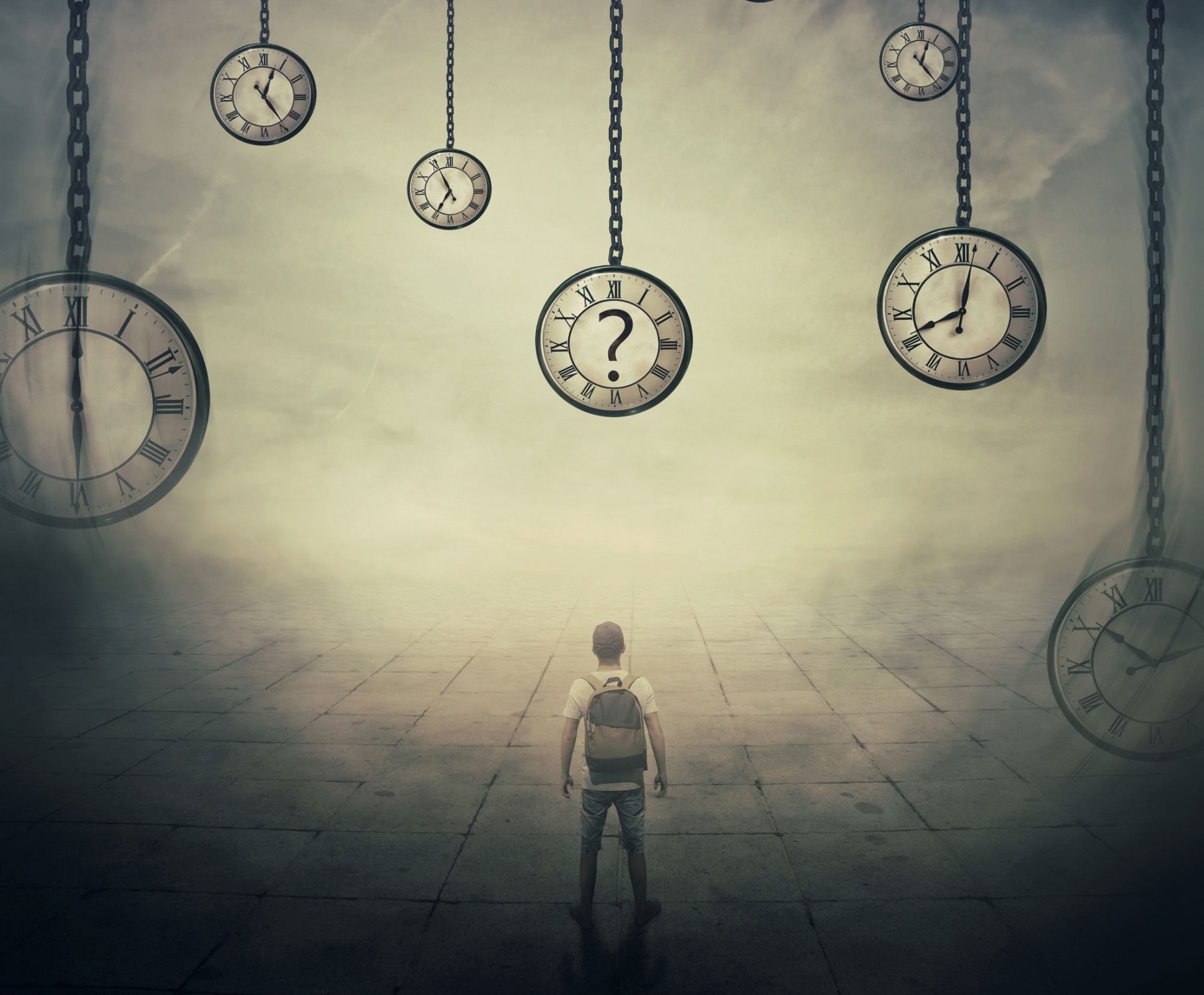 In multiple fora I have defended and debated the need for economic reform in Cuba, backed by arguments that are both theoretical and historical, political and technical. In my opinion, economic reform is essential to overcome the tremendous challenges facing the country and the impact of the actions of the Trump Administration.
Government leadership has been renewed through the recent 8th Communist Party Congress. The documents that open the necessary space for the reforms—essentially the so-called "Conceptualization"—have remained in force, according to official statements (the final version of these documents has not yet been published).
Now, as important as the aforementioned is, it is not enough. We must meet the concrete operational challenges. These are enormous and the response has to be equal to them. The country has the reserves to overcome these challenges - a population with the capacity and talent to work with greater efficiency and complexity if given the opportunities and incentives; land that can yield much more if the conditions for its proper use are modified; and a scientific sector ready to make important contributions, as demonstrated with the very important advancement of vaccines against COVID-19.
The Time Factor
In this context, a sense of timing is essential. The economic reforms must respond to the necessary changes in an exhausted and depressed economic model that impedes greater dynamism in the production of goods and services and, therefore, affects what could be its greatest virtue - fairness and equity in the distribution of national wealth. Without the production and provision of goods and services, fair and sufficient distribution is impossible. Society, and average citizens, do not live in a fantasy world.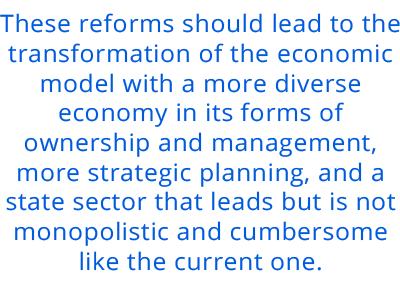 These shortcomings have resulted in both formal and informal inflation, the black market, and even corruption. Of course, the U.S. embargo/blockade and the pandemic are enormous restrictions with tremendous impacts and strong deterring factors, but other challenges can be overcome even in these difficult circumstances. To that end, the current reforms are of paramount importance.
These reforms should lead to the transformation of the economic model with a more diverse economy in its forms of ownership and management, more strategic planning, and a state sector that leads but that is not monopolistic and cumbersome like the current one. The state enterprise sector must operate with greater decentralization and competition, sharing the economic space with cooperatives and small- and medium-sized private enterprises in both the national and global markets.  Of course, it would operate with adequate and functional socialist regulations and guarantees. Cuba needs a strong government and state, with sufficient tax revenues to meet the necessary social and redistributive policies for guaranteeing the system's social nature, in addition to its defense and sovereignty.
This all must be done.  It entails a medium- and long-term process, but it must begin now, with conviction and agility.  In addition to the outcome of the Party Congress and the generational changes in the leadership, the approved documents—primarily the Conceptualization and the recent Constitution—should favor this pathway.  In fact, there are signs that progress is being made in that direction.  However, it is not enough to simply move forward - it must be done comprehensively and swiftly, combining structural transformations in the medium and long term, along with addressing the current outstanding emergencies.
Some Questions
And this is where concerns arise.  There appears to be confusion among medium- and long-term objectives with the vast short-term emergencies.  Sometimes it seems that the various needs are not effectively identified, nor sufficiently understood.
The Conceptualization contains resolutions and provides ground to aim for, enable, and favor a fundamental transformation of the current economic model.  We must consider whether the measures that have been successively added and implemented in fact respond to the logic of a profound transformation of the economic model.
The current situation necessarily requires combining the response to the immediate needs (which is very important) and also advancing in the direction of strategic reform.  Sometimes it seems that rather than complementing each other, these tracks overlap and confound.
In this sense, the most critical problem is agriculture, given its impact on such a basic need as feeding the Cuban population.
On the one hand, the agrarian management model should be radically changed, and even replaced. This implies modifications in production, sales, financial services, and access to internal and external markets, as well as adequate access to various types of essential productive inputs such as seeds, fertilizers, machinery, fuel, water, and pesticides, and the technical and scientific services, etc.
On the other hand, agriculture also requires responses to immediate challenges.  Even assuming that adequate progress is being made in the longer term strategy (which still does not seem clear), the restructuring times, due to their complexity, imply deadlines that do not guarantee immediate results.  This can lead to even greater food shortages in the coming months.  Even short-cycle crops take a few weeks to harvest.  Therefore, obtaining credit and mobilizing the necessary resources to import food and reduce immediate deficits is a pressing need.
In summary, the effect of (absolutely necessary) structural changes, assuming they are done well, are medium- and long-term solutions.  Food emergency, which is a short term need, cannot wait.
New Measures in Agriculture
New measures have recently been approved to stimulate agricultural production. Taken separately, they seem to be moving in the right direction, in the sense that they point to greater decentralization in agricultural management, with more incentives provided to producers, greater local control, more possibilities for market transactions and access to productive inputs, etc. However, some very important problems should be addressed in order to meet short-term needs:
This is not yet the comprehensive transformation that the agricultural management model needs.
 
The fact that within Cuban agriculture today the private sector is the greatest contributor to food production is not sufficiently understood and recognized.
 
Price controls have not been adequately adjusted.
 
The methods of ensuring compliance with necessary state mandates are still imprecise and may undermine incentives for increased production.
 
The controversial action of "Acopio", the requirement that Cuban agricultural producers sell primarily to Cuba's state procurement and distribution agency, has not been sufficiently reformed, except in some places on a pilot basis, as is the case of the province of Las Tunas.  Acopio should instead compete for produce and adhere to the market's own boundaries, however regulated it may be, as do the rest of the agents operating in the sector.  Acopio must stop being a monopolistic and burdensome entity. At this time, not only is the collection and purchase of production from farmers effected through Acopio, but so is the distribution and sale of production inputs to farmers, both operations with demonstrated and persistent insufficiencies and inefficiencies.
 
The announced sale of production means and inputs to farmers and cooperative members turns into a trap, as the goods are sold to farmers in foreign currency while they can only sell their produce in national currency, without any viable form of converting the national currency back into foreign currency to purchase inputs.  This is a problem of utmost importance, as without the ability to obtain an adequate level of production inputs it is absolutely impossible for producers to raise the levels of land yield, which are currently at historic lows.  Despite the deficits in the availability of foreign currency in Cuba, with an external sector under a lot of pressure, the reforms must respond to this urgent problem.  The creation of a bank specialized in the agricultural sector with more agile and diverse financial services is, in my opinion, a necessary step that should not be postponed.  Food production and availability is at stake.
 
Certain atavisms continue in the marketing of agricultural products. "Middlemen" are often blamed for price increases and speculation. There may be some abuse, but it is a problem whose causes must be thoroughly and quickly studied and addressed. Marketing of products is an intrinsic part of the economic dynamics anywhere and at any time in history. It is a specialized activity that, if well-organized, decentralized and regulated, enables greater efficiency and cost reduction in the economic cycle. To say that farmers should be responsible to sell their own produce makes no sense, and it detracts time and efficiency from what they are supposed to do well - produce.
 
The ongoing payment defaults among economic agents, not only with farmers who have to deal with Acopio, but also among state-owned enterprises in all sectors, must stop.  No economic regime in the history of civilization can function adequately with permanent and systematic non-payment among the various economic agents. Adequate financial flow is an essential condition for the proper functioning of an economy in which the market must play a central role.  There are no alternatives.
 
This issue must be viewed in each specific context.  Essentially rural territories with a smaller population, where sales can be made on the "the side of the road," as may be the case in provinces such as Las Tunas, are not the same as the complex larger markets and populations of Havana, Santiago de Cuba and other big cities on the Island with much more complex sales streams requiring specialization. Speculation is not addressed by just prohibiting commercialization, which is a valuable and essential activity in itself that must be legally recognized, decentralized, allocated resources, and adequately regulated.
Conclusion
In summary, even though the recently approved agricultural measures, viewed individually, contain many positive and important elements, they do not provide the basis for the profound transformation that the agrarian model needs, nor do they respond to the immediate production requirements of the agricultural sector at the moment.  These measures are disjointed and do not constitute a real new agrarian model.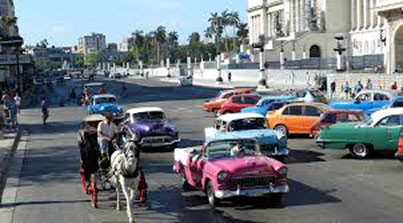 The recent announcements of good policies of decentralization and transfer to the local municipalities responsibility for agrarian management also presuppose the transfer of the necessary human and material resources to them and the local authorities. Otherwise, decentralization would not work in practice – it would remain rhetoric.
In my opinion, we must move forward planning more quickly and consistently with a view to the near and longer terms, as well as the short term, each of which requires its own coherent decision-making.  Time is of the essence.
The current economic model is based on a command bureaucratic planning economy that has not been essentially modified.  It must finally become more indicative and strategic, as corresponds to a socialist economy in which the market, no matter how regulated, occupies a fundamental place in economic dynamics and resource allocation. The market is a complex structure that must be the result of a deliberate action with all the attributes and integration that entails.
It is essential that the market be regulated so as to block its negative side effects without diminishing its essential role in economic relations. The proper synthesis between the regulated market and strategic planning is not only necessary—it is also possible.  Logically, it is well-accepted that food production and its general availability is a national security problem.  That is how it must be treated.
---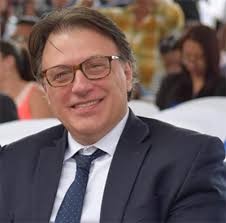 Julio Carranza
Dr. Carranza holds a Ph.D. in Economics from the University of Havana, and has been a visiting professor at several universities in Latin America, Europe and the United States. He is a former deputy director of the Center for American Studies in Havana and former UNESCO Councilor for Social and Human Sciences in Latin America and the Caribbean. He is the author of several books and articles on Cuba and Latin American issues. He is currently the Director and Representative of UNESCO for Central America.